Migraine is more than a headache
If you're a migraine sufferer, you're not alone. Nearly one billion people around the world are affected by migraines  with 20% of the Australian population suffering migraines. 1,2
A migraine can be so painful and distressing that everyday activities feel impossible, leaving you either anxious or worried about when a migraine will reoccur.
We understands the impact that migraines can have on everyday life and has been specifically designed for migraines. Imigran® Migraine is an effective treatment and, when taken early can help to stop the onset of migraine and other associated symptoms so you can get on with the rest of your day.
The best way to find effective migraine relief is through lifestyle management and finding the right treatment, like Imigran® Migraine to help stop an attack escalating once it starts.
Find out more about the simple steps that can help bring relief:
01
Identify your migraine triggers
One of the simplest ways you can help prevent migraine attacks is to identify anything that may be triggering them – so you know, where possible, what to try to avoid.
Keeping a migraine diary can help make this process easier.
02
Stop your migraine when it starts
Migraine needs to be treated as early as possible, before it has time to take over.
Taking Imigran® Migraine at the first sign of a migraine attack – whether it's migraine with or without an aura – can help you take control, so you can get on with life.
03
Manage your migraine with lifestyle changes
Regular exercise, sleep and meals, and making sure you stay well hydrated are just some of the small changes to your daily routine that may help you manage your migraine better.
How Imigran® Migraine can help
Developed specifically for migraine relief
Are your usual pain-relievers not working for you? Imigran® Migraine is designed specifically for migraine and has been helping Australians find migraine relief for over 25 years .3
Take at the first sign of a migraine attack
When taken early, Imigran® Migraine can help stop the onset of a painful migraine headache and other migraine symptoms – so you can get on with the rest of your day.
Puts migraine control back in your hands
Ask your pharmacist about Imigran® Migraine  – available from your local pharmacy without a prescription – so you're prepared and ready for when you feel a migraine coming on.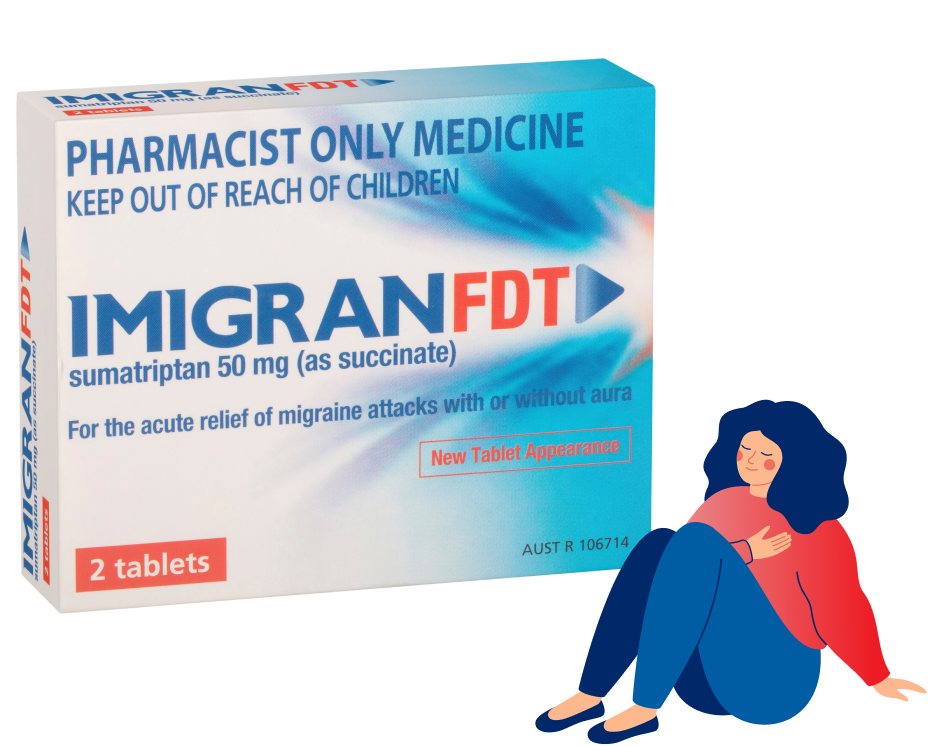 1 GBD 2017 Disease and Injury Incidence and Prevalence Collaborators. Lancet. 2018;392:1789-1858
2 Deloitte. Migraine in Australia Whitepaper.2018.
3 IMIGRAN sumatriptan 50mg. ARTG Public Summary (52261). Available at: https://www.ebs.tga.gov.au/ (accessed September 2023).